Precious Sambani has defied all odds following his resurgence from an injury that kept him on the sidelines for almost the entire campaign in the 2021 season.
On 30 May 2021, the wingback was on the receiving end of a crude tackle so bad he was in danger of having surgery.
He had damaged his anterior cruciate ligament and suffered a partial tear to his meniscal in the 13th minute of the TNM Super League match against Ekwendeni Hammers at Kamuzu Stadium.
When he was told about this news after undergoing an MRI scan, the 24-year-old, who at that time was in top form for both club and country, was devastated fearing that his season was over.
By then, he had scored four goals for Nyasa Big Bullets and he was also part of Malawi's squad that qualified for the 2021 Total Energies Africa Cup of Nations.
His coach, Kalisto Pasuwa, with frustrations written all over his face, updated the club media about Sambani's injury.
"Sambani is required to go for surgery and he will definitely be out of action for six months or so. As a coach, I am saddened by this setback to his career. We will certainly miss his services in the team. But this is inevitable in football and we can only wish him a quick recovery," said Pasuwa.
Visiting him at his place in Chilomoni, the versatile wingback could not hold his tears as he narrated his ordeal, saying all his dreams of appearing at the Afcon for the first time in his career were shuttered.
"I am hurt and I am down. I was hoping to appear at Afcon for the first time in my career but it won't happen. I got injured at a time when I was enjoying my football and this is a huge setback for me. But I will never give up, I will come back stronger than ever," he told Bullets media.
True to his words, Sambani started his recovery, focusing on physical therapy at the College of Medicine with the help of the club medical team.
When we had another chat with him to learn more about how he was recovering, Sambani told us:
"I am currently doing well with the help of the medical team. I have been attending physical therapy sessions and it's really working for me because I am making progress.
"I must admit that it hasn't been easy for me since I got injured, but I have accepted the situation and I have to focus on my recovery so that I get back to the field of play very soon."
Months collapsed and Sambani kept on pushing for his recovery as he continued staying on the sidelines.
In that season, Bullets won a double, retaining the TNM Super League championship and winning the Airtel Top 8 Cup.
It was also the year in which Flames coach, Marian Mario Marinica, who came in on an interim basis, named his final squad for the continental competition in Cameroun where Malawi finished in the Last 16.
An upsetting period for the left back who saw his dream shuttered just like that, Sambani on the other hand had one thing in mind; to recover and return to the field of play in readiness for the upcoming 2022 soccer season.
And when he was cleared by the medical team to resume playing, Sambani rejoined the Bullets squad for pre-season and he looked sharp to the satisfaction of Pasuwa, who was delighted to have him back.
"Sambani is looking sharp and I am delighted to have him back, but I will be very careful with him. I will not rush him into action so that he fully recovers and be part of the 2022 season," he told club media during pre-season.
When the new season kicked off, the left-back started on the front foot. He was brilliant in the opening half of the season where he netted in three Super League games against Mafco FC, Moyale Barracks and Mighty Tigers.
He then continued his form when he registered his name on the scoresheet when Bullets defeated Ekwendeni Hammers 2-0 at Mzuzu Stadium.
A fortnight ago, during an FDH Bank Cup round-of-16 match against Moyale Barracks, he scored one of the most beautiful goals in the competition with his stunning curve to restore Bullets' lead and The People's Team went on to win the game on penalties to book a place in the semis.
The left-back was also on target twice when Bullets defeated TN Stars 8-0 at the Kamuzu Stadium on Sunday.
His latest goals mean he is the highest-scoring defender in the top flight league with seven goals.
"I thank God for what has happened to me and what is still happening to me. When I got injured, I never knew I would get back to the field of play stronger and better than I was, but here I am, playing and enjoying my game, so I am very grateful to God.
"I am also very grateful to my coach Kalisto Pasuwa and his entire technical staff, the management for the continuous support before, during and after the injury. I will keep on pushing for more so that the team continues to perform better. I am also very thankful to the supporters for always being there for me during those difficult days."
Sambani is now fearless, quick, productive and mature. All the things you would normally associate with a ready-made defender 10 years older.
A year later, after gruesome recovery sessions and what can only be imagined as a challenging time for the player, Sambani came out good and impressed both Pasuwa and Marinica, who recalled him to the just-ended Cosafa squad in South Africa.
There is a sense of maturity and authority with every touch, confidence growing every week, accountability, and accepting responsibilities when, two or three years prior to joining Bullets, he might have shied away from it.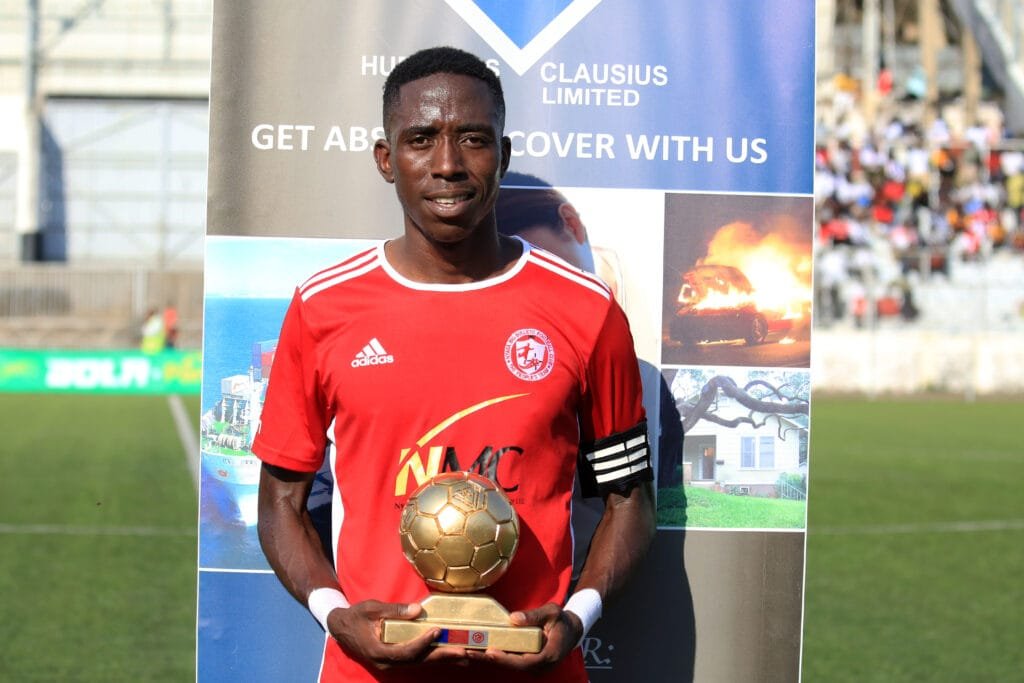 Sambani, who has just been voted the Hubertus Clausius Player of the Month for July, is back to his level best and is now the senior team vice-captain as he captained Bullets during the Blantyre Derby against Wanderers a fortnight ago, against Chitipa United in the quarterfinals of FDH Bank Cup last week and versus TN Stars on Sunday following the changes Pasuwa made to the captaincy in the absence of first team captain, John Lanjesi.
So far, he has featured for all Bullets' 20 TNM Super League games and three FDH Bank Cup games, making him the only player for The Peoples Team to play in each and every game this season.
The left-back is also part of Marinica's final squad for the CHAN qualifiers against Mozambique. On Saturday he featured in the last 10 minutes of the first leg match against the Mambas at Bingu National Stadium where the two sides played to a 1-1 draw. Malawi will fly to Maputo for the return leg next week.