FCB Nyasa Big Bullets dropped points again in the TNM Super League following a 1-1 stalemate away to Mighty Tigers at Kamuzu Stadium on Wednesday afternoon.
The hosts opened the scoring in the 35th minute when Precious Chiudza broke the deadlock to lead at the break before Ephraim Kondowe came off the bench in the final half to equalize and salvage a point for Bullets in the 48th minute.
What happened
Kalisto Pasuwa made one change to the side that defeated Karonga United 2-0 on Saturday as Gomegzani Chirwa and McFallen Mgwira started in place of Precious Phiri and Maxwell Phodo.
It was a match mostly dominated by Bullets through our usual attacking players Lanjesi Nkhoma, Patrick Mwaungulu and Hassan Kajoke but making a breakthrough proved to be a very difficult task for the defending champions, who endured a frustrating afternoon.
The People's Team had three successive chances within a space of eight minutes but were all well-defended by the hosts who, at times, could just sit back to defend against the very high-pressing Bullets.
Tigers had their share of possession in the 15th minute when Chiudza, George Chaomba and Frank Chikufenji exchanged passes to release Wellington Mkandawire who saw his goal-bound shot well blocked by Blessings Mpokera.
At the other end, Nkhoma made his way into Tigers' penalty area before sending a very dangerous cross that found Kajoke who took a first-time shot only to miss the target when the goal was wide open.
Moments later, Chirwa sprinted towards the right flank, but his cross was cut short by Kelvin Banda for a corner kick, which Christopher Nyambose's charges easily defended.
Bullets were coming wave after wave in search of a much-needed goal, but Kau Kau defended with everything to keep themselves in the game.
Kajoke's denied from the spot, Tigers lead at half-time
In the 27th minute, Bullets were awarded a penalty when Kajoke was brought down inside the box by Masiya Manda.
The forward stepped up, but his spot kick was well saved by Tigers goalkeeper, Innocent Nyasulu.
Against the run of play, the hosts took a surprising lead.
A freekick by Precious Chipungu was connected into the net by Chiudza, 1-0.
This goal gave Bullets all the reasons to engage an extra gear in a desperate bid for a goal but the more they attacked, the more they hit a snag as Tigers were well disciplined at the back.
Towards the end of the half, Bullets missed three clear-cut chances through Kajoke who fired wide when he was found unmarked by Nkhoma; Chawanangwa Gumbo who saw his shot well blocked by Manda and Frank Willard who fired wide from Tigers' goal.
Bullets completely dominated the opening half while the hosts looked like they came up with a plan to just sit back and make sure that the defending champions don't score, and this worked as they indeed took a half-time lead.
Bullets' half-time substitution
In the second half, Pasuwa brought in Kondowe for Mgwira to improve the attacking prowess.
This change was all that Bullets needed as we levelled in the 48th minute through the substitute, who scored his second goal of the season when he made a simple tap-in from a pass delivered by the lively Mwaungulu, 1-1.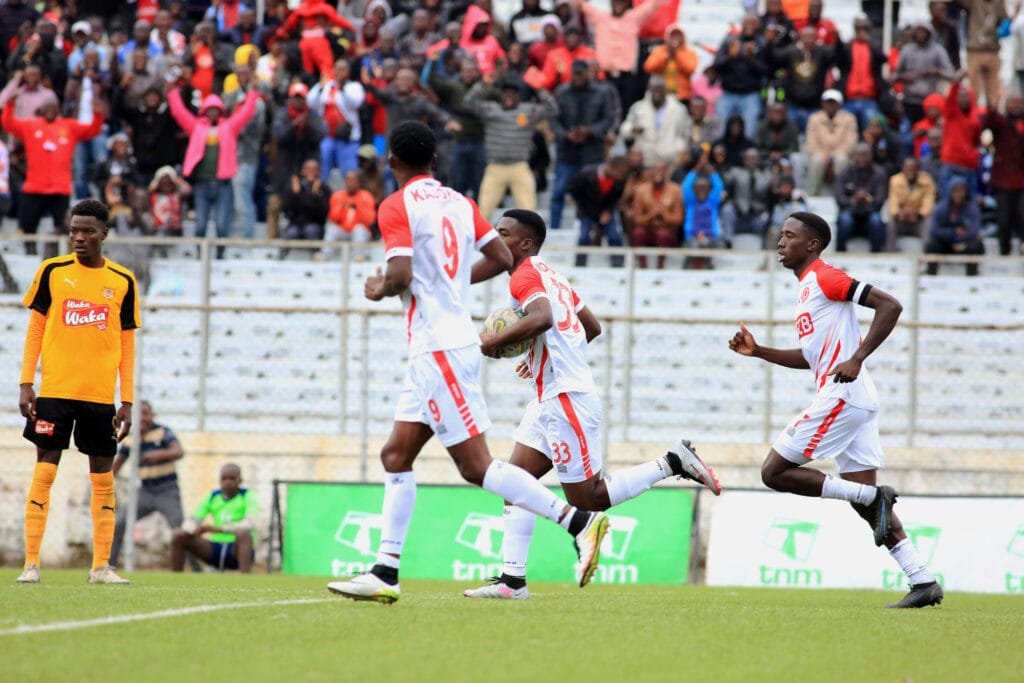 The early equalizer unsettled Tigers who were now under intense pressure to contain the high-pressing Bullets who were doing everything to find a winner.
As Bullets attacked, Tigers sat back to defend and they struggled to build their rhythm as they couldn't even make five passes to one another without the ball being intercepted by Pasuwa's charges.
The only time they got to take a decent shot at goal was after 58 minutes of play when Chiudza's attempt went wide.
Bullets kept on playing with intent, and they had two penalty shouts in succession turned down by referee Gift Chicco, triggering massive protests from the visiting fans.
Mwaungulu produced a moment of brilliance when he got the better of Banda before delivering yet another excellent pass to Kajoke, who failed to connect home, allowing the Chipungu to make a timely clearance.
In the 64th minute, Nkhoma made his way into the attacking zone before being brought down by Manda for a freekick which was well taken by Mwaungulu, but Nyasulu was equal to the task with another save.
Bullets pressed, exchanged passes and made Tigers chase the ball throughout, but to unlock the opposition's defence was a tall order for Pasuwa's men.
Kajoke was given another opportunity to make up for his earlier miss from the spot when Mwaungulu found him unmarked again, but he was too slow to shoot at goal, wasting another glorious opportunity when it mattered most.
In the 83rd minute, another penalty shout was turned down by Chicco as Bullets were left frustrated by the officiating team.
With four minutes added to the clock, it was now Tigers' turn to delay the match to dent all Bullets' hopes of producing a last-minute goal that would have seen them finishing the first round with 32 points.
Bullets have now dropped 15 points after registering six draws and one loss, finishing the first round with 30 points.
At this stage last season, they had 41 points, eleven points ahead of the second-placed Blue Eagles going into the final half of the 2022 season.
Pasuwa's post-match reaction
In his post-match interview, Pasuwa said he was satisfied with how his charges performed in the first round.
"Yes, very much satisfied with the performance from the boys. Remember, we have been rejuvenating the team every year and finishing with 30 points, we can't do anything because it happens, but judge us at the end of 30 games to see how the race will end," he reacted.
On the missing chances, Pasuwa said it was a positive sign that his team can create chances.
"If you see those boys, they are able to create chances in the goal area. It's just very unfortunate that we didn't score [more than one goal], something that needs to be sorted. I am also surprised with the new rules that say a team cannot get two penalties, I want to find out as to why we were not given two clear penalties," commented the Bullets gaffer.
What next?
Next on the menu is an away fixture in the FDH Bank Cup quarterfinals against Extreme FC at Civo Stadium on Saturday.